Doctor Patrik KIS, Prosthetic Dentistry and Endodontics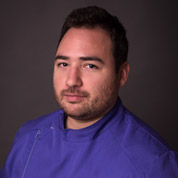 Doctor Patrik Kis graduated in 2012 from Semmelweis University. After his graduation, he taught conservative dentistry for 3 years, during which he also preformed Endodontics for 3 different dental practices. He joined Helvetic Clinics in 2015. In November 2015, Patrik finalised his specialisation in Prosthodontics and Endodontics at the Semmelweis University. Patrik speaks English fluently.
My specialty
I have specialised in Endodontics because I love precision dentistry. I operate with Zeiss Loupes or with a microscope whenever needed and the results always meets my patients' expectations. I am also passionate about dental photography which I studied. I give lectures to dentists in this speciality.
Endodontics (root canal treatments)
Metal-free restorations
Aesthetic dentistry
Invisible fillings
Previous experience
2015 Specialisation in Prosthodontics and Endodontics (Graduation in November 2015) Semmelweis University of Medicine, Faculty of Dental Medicine
2012-2015 Professor and researcher at Semmelweis University, Conservative Dentistry
2012-2015 Endodontics and conservative dentistry at different practices in Budapest
2012 Graduation from Semmelweis University in Conservative Dentistry.
Congress and courses participations
2011. Continental European Division of the International Association for Dental Research, Budapest
2012. Dr. András Volom: Dental World: Esthetic Dentistry Conference
2012. Dr. Csilla Csikány: VDW Reciproc system Endodontic course
2012. Dr. Márk Plachtovics: Digital Volumentomography (CBCT) course
2012. Dr. Miguel Stanley: MIS Club – Implantology course with MIS Implant system
2013. Perspectives in Paro-implantology conference, Szeged, Hungary
2013. Dr. Zsuzsanna Tóth: Development and Ergonomics in Endodontics course
2013. Dr. Szabolcs Gyulai-Gaál: Astra Implant system course
2013. Mike Sharland: Dental photography in practice, University of Birmingham online course
2013. Dr. Paul Gerlóczy: Shoulder preparation and metal-free crowns: practical and theoretical education
2014. Dr. András Volom: Dental World: Esthetic Congress
2014. Paroimplant Congress, Semmelweis University
2014. Dr. Henriett Kontra: Pro Taper Next rotary file system in endodontics course
2014. Dr. Bálint Molnár: Astra tech implant system prosthetic hands-on course
2014. Perspectives in Paro-implantology Conference, Szeged, Hungary
2014. Theoretical and practical presentation of CEREC chairside CAD-CAM system, participated as lecturer
2014. 18th Michael Klopotowski International Conference, Lodz, Poland
2014. 1 month Erasmus scholarship at Helsinki University, Institute of Dentistry, Helsinki, Finland
2015. 36th International Dental Show, Cologne, Germany
2015. Modern root canal filling techniques course, Semmelweis University
2015. Dr. Gergely Benyőcs: Dental World: Endodontic Congress
2015. Szabolcs Hant: Photography, Color evaluation, Stratification in esthetic region course
2015. Endodontic Workshop with Morita Root ZX rotary system, Semmelweis University
2015. Rui Pereira de Costa: EndoMasters 2015, International Endodontic online conference
2015. Dr. Péter Lukács, Dr. András Mócz: Application of glass fiber reinforcements in dentistry
2015. Dr. Andreas Habash: IDS Colténe HyFlex Endodontic hands-on course, Cologne, Germany
2015. Dr Julian Webber: IDS Wave One Gold Endodontic hands-on course, Cologne, Germany
2015. Upgrade Congress, Budapest, participated as a lecturer